Traslation from Lithuanian
LETTER OF THANKS
A specialist in bio-energetics Viktoras Podpruginas has been treating me since 1997.
In June 1997 a cyst on my left ovary and uterus myoma were diagnosed. I was clear that I had to be operated. However, I applied to Mr Podpruginas for his help and as a result, I did not get disappointed. He helped me to recover without any operation. Besides, he treated my system of nerves. I was suffering of fears, insomnia. At present, I am calm and I sleep well. He also helped me to recover from radiculitis.
For a long period of time I experienced pancreatic disorders – after taking some meditations, especially antibiotics, or because of some kinds of food, I felt pancreatic disorders and stomach aches. At present, my condition is very good. Thanks to Viktoras Podpruginas, I have no more any pancreatic pains.
Three years earlier, I felts terrible pain in my legs and arms. It was a period of time when I almost was not able to get on the trolleybus. My hands and arms became so weak and painful. But nowadays, I am able to perform gardening works and use trolleybuses without problems.
This spring, I had an enteric bleeding I drank tea only, because every kind of food irritated my stomach. I didn't apply to physicians, but applied to Viktoras Podpruginas who helped me to recover again.
I am very thankful to Viktoras Podpruginas because now I am lucky to enjoy my life. I am happy because I am not suffering from any pains. In case of any problems occurred with my health, I should apply to him again.
Elena Susinkiene, born in 1934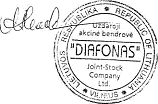 ***
16 March 2005
I, Ana MackeviĆØ, the translator of Vilnius Translation Bureau "Diafonas", am acquainted with articles 235 of the Criminal Code of the Republic of Lithuania, which provides for Criminal responsibility for untrue translation.