Traslation from Lithuanian
TO: Honored Mr Viktoras Podruginas
Issued on 13th of March, 2003 in Vilnius
I, Vladimir Satilo, living at Naugarduko Steet 53-53 in Vilnius, in spring of previous year, had stomach ucler fit and was placed to the Emergency Hospital. Because I was the unemployed, the next day I was sent home from the hospital. Mr Viktoras Podpruginas proposed me his assistance because we lived in neighborhood since our childhood. After 20 treatment sessions I felt a considerable improvement in my condition. Herewith I'd like to express my thanks to him and to wish him all the best in his activity. Thanks to such people like him, our life does acquire its sense.
Vladimir Satilo /Signed/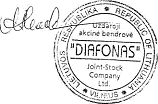 ***
16 March 2005
I, Ana MackeviĆØ, the translator of Vilnius Translation Bureau "Diafonas", am acquainted with articles 235 of the Criminal Code of the Republic of Lithuania, which provides for Criminal responsibility for untrue translation.