Traslation from Lithuanian
LETTER OF THANKS
For a long period of time I was suffering of stomatch and heart ache, my legs and hands were painful. I was taking medications, but they did not help me a lot. Then I applied to Mr Viktoras Podpruginas, I was not disappointed. He helped me to recover completely and nowadays I feel myself fine.
I am very thankful to Mr Viktoras Podpruginas for I am not suffering from pains any more and in case of any problems I would apply to him again.
Leonarda Mairanovska, born in 1958
15 June 2004
Vilnius region, Skaidiskes, Sodu Street 27-8
/Signed/
Signed/
28 October 2004
Vilnius, L. Giros St. 94-48
Asta Grybiene, born in 1962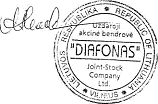 ***
16 March 2005
I, Ana MackeviĆØ, the translator of Vilnius Translation Bureau "Diafonas", am acquainted with articles 235 of the Criminal Code of the Republic of Lithuania, which provides for Criminal responsibility for untrue translation.