Traslation from Lithuanian
LETTER OF THANKS
For some years I was suffering from pains in the area of femoral joint. It was painful to walk, to stand, even to sleep. In 1994 all the analysis required have been performed and I got to know that there was a cyst in my femoral joint I was proposed an operation as the only way of treatment. I did not wish to have an operation, so I applied to a specialist in bio-energetics, Mr Viktoras Podpruginas, who agreed to treat me. After 1,5 months of appropriate treatment, I repeatedly applied for radiography. The specialist concerned were surprised to stat that the cyst disappeared. The most important issue was that didn't not feel any pain while walking and could sleep at night without problems.
I shared my experience connected to my disease in TV program 'Priestarauk' ('Disagree' for English) in 1995 where there was a discussion about opportunities provided by bio-energetic treatment.
I am very grateful to Mr Viktoras Podpruginas, because I don't fell any pain now. I can walk and perform physical actions and cal sleep calmly and to enjoy my way of living. Also I know that because of any health problems I can apply to Mr Viktoras Podpruginas and he will always help me. Thank you very much for that.
Signed/
28 October 2004
Vilnius, L. Giros St. 94-48
Asta Grybiene, born in 1962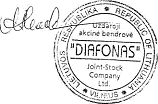 ***
16 March 2005
I, Ana MackeviĆØ, the translator of Vilnius Translation Bureau "Diafonas", am acquainted with articles 235 of the Criminal Code of the Republic of Lithuania, which provides for Criminal responsibility for untrue translation.