Translation from Lithuanian
PUBLIC ACADEMY OF PARAPSYCHOLOGY OF VILNIUS
LETTER OF RECOMMENDATION
A specialist in bio-energetics Mr VIKTORAS PODPRUGINAS has gained a 15 years' experience in bio-energetics. He is able to treat the patients, suffering from oncological, heart and blood vessel diseases, as well as diseases connected to system of nerves and other organs. He performs Chinese massage, makes corrections if bio-energetic fields of and individual and encodes water.
Viktoras Podruginas is a well-known specialist in the area of bio-energetics, because he has helped a significant nuber of his patients. Several times he took part in TV discussions, some articles written about him appeared in local newspapers.
The Public Academy of Parapsychology of Vilnius recommends Mr Viktoras Podpruginas as a good specialist for work in Great Britain.
Rector Vytautas Kazlauskas /Signed/
SEAL: the Republic of Lithuania
The Public Academy of Parapsychology of Vilnius
Issued on the 23rd of November 2004.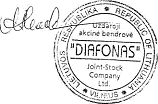 ***
16 March 2005
I, Ana MackeviĆØ, the translator of Vilnius Translation Bureau "Diafonas", am acquainted with articles 235 of the Criminal Code of the Republic of Lithuania, which provides for Criminal responsibility for untrue translation.